Lisa oversees the day-to-day execution of the Wells Mountain Initiative's vision and development goals. Her career is inextricably linked with what she believes in: advancing social justice, gender equity, education and poverty alleviation. She has served for more than twenty-five years in senior resource mobilization, communications and management positions at several organizations including USA for UNHCR, International AIDS Vaccine Initiative, AMREF Health Africa and the International Rescue Committee. Lisa's favorite motto is an African proverb: "if you want to go fast, go alone; if you want to go far, go together."
As WMI's Senior Advisor, Jordyn assists the Executive Director in the execution of WMI's vision. Jordyn is a WMI co-founder and served as WMI's Executive Director from September 2017-June 2023. Previously, Jordyn worked for Shining Hope for Communities (SHOFCO), a Kenya-based NGO, from 2011-2016, most recently as the Chief Program Officer, where she led the design and implementation of SHOFCO's operational, financial, and evaluation systems. Prior to SHOFCO, Jordyn served as the Chief Program Officer at DoSomething.org. Jordyn has a BA in cultural anthropology from Bard College and a MSW, with a concentration in nonprofit management and international social welfare, from Columbia University.
Nicole Schmitz

Director of Global Operations
Since 2013, Nicole has served in numerous roles at WMI, working to expand the WMI Fellowship network, Community Development Grant program, Scholar Ambassador program, Global Advisory Board, and Scholar Review Board. She also leads the planning and logistical coordination of Dream Big Conferences and the WMI Academy and provides operational support across the organization.
Previously, Nicole served as the International Student Advisor and Scholar Services Coordinator at Mercer University and as a Program Assistant for Project Harmony International.
Nicole earned her BS in international business from Champlain College.
Maria Hoaglund

Director of Human Resources and Finance
Maria manages the finances for Wells Mountain Initiative as well as the human resources for U.S. employees. Her career spans more than three decades working for non-profits, community foundations, marketing corporations and manufacturing companies. She enjoys both the financial and the employee engagement side of her work and believes the best place to work is where every employee knows exactly how their position helps to move the organization's mission forward. "When people are financially invested, they want a return. When people are emotionally invested, they want to contribute." – Simon Sinek
Lisa manages our education programs, which involves communicating directly with our student scholars and assisting them in their academics and community service, as well as overseeing the scholarship application process. She helps plan and creates content for the WMI Academy. She also works with the WMI Global Advisory Board as staff liaison.
She has worked extensively with international students at the secondary and tertiary education levels. A former associate professor at Columbia University in New York City, she has taught English language skills to international students and refugees living in the United States, as well as teaching English as a foreign language in Spain.
Lisa graduated from Boston College with a double major in English and philosophy and has a master's degree in teaching English as a second language from St. Michael's College.
Katie Martinez




Development & Communications Manager
Katie is a member of the WMI development and communications team where she works with the Executive Director to expand fundraising and build the organization's brand. She is a creative professional who works to implement outreach and media strategies to engage with new and prospective donors, while strengthening our existing relationships. Katie is deeply committed to making a positive impact on the world. She is an advocate for gender equality, social justice, and environmental conservation. Her professional background is expansive in the non-profit sector, as well as years of digital marketing and communications experience. Katie holds a bachelor of fine arts in new media, specializing in graphic design, from Indiana University.
Bonny Mark Alinga




Community Development Grants Coordinator
Bonny Mark has significant grant management experience as a three-time beneficiary of the WMI Community Development Grant program which were pivotal in establishing and expanding Nissi High School in his home community. The secondary school currently enrolls 178 students and employs 26. Bonny Mark is also the founder of a thriving business and an NGO dedicated to supporting women, orphans, and vulnerable children. His extensive leadership experience includes many roles with Rotary International, including Regional Grants Support Officer for Eastern Uganda. He has a bachelor's degree in business administration with a specialization in human resource management from Bugema University and will complete his masters of business administration from Uganda Christian University in 2023.
Success Odoemenam Eugene





Leadership Skills & Development Coordinator
Success is driven to support the professional development of others. She is also passionate about revolutionizing healthcare and lifestyle practices of young people and is currently in the start-up phase of De-Bloom Medicare. Success served on the Global Advisory Board and has held the position of Regional Coordinator for West Africa. She is also a recipient of a Community Development Seed Grant which supports patients who are screened and diagnosed cervical cancer to be seen by specialists for early treatment. As the Leadership Skills and Development Coordinator, Success designs leadership skills opportunities for scholars throughout the world and actively supports the development team. She graduated with a degree in biological sciences from the University of Port Harcourt in 2021.
Mala Deep Upadhaya




Asia & Oceania Regional Coordinator
Mala Deep Upadhaya is eager to assist WMI Scholars throughout his region and has supported the WMI Nepal Fellowship in their continued development. He also works as an independent consultant for several national and international organizations on data visualization, analysis, and web development projects. He is currently engaged in research which integrates methodologies from data visualization, human-computer interaction, machine learning, visual analytics, and data mining to tackle social context issues. Mala completed his bachelors studies in computer science from Kathmandu University in 2020 and is currently working on his masters.
Phoeby Musonda

Central & Southern Africa Regional Coordinator
Phoeby is a strong leader and advocate providing representation and opportunity for young women and girls within her region. Her background within the nonprofit sector focuses on international development and the eradication of gender based violence. She currently works as consultant and trainer of gender based violence prevention and management and child protection. She previously worked as the operations and development manager for Freely in Hope in Zambia, a nonprofit organization that focuses on advocacy through education and leadership development for survivors of sexual violence and with Women and Law in Southern Africa supporting women and children's socio-economic rights. Phoeby is a co-founder of Building Resilience Helping You Thrive Foundation; an organization that provides social services to survivors of gender based violence. She graduated with a bachelor of laws degree from the Zambian Open University.
Joyce Shikuku




East Africa Regional Coordinator
Joyce has 10+ years of experience in social behavioral research and works full-time with KEMRI-Wellcome Trust Research Program. Joyce has served as a WMI Kenya Fellowship leader, implemented a WMI COVID-19 Response Grant and has been a Community Development Seed Grant awardee. She is the founder of the Giving Back Initiative, an organization that empowers underprivileged adolescent girls and young women in remote parts of Kenya on sexual and reproductive health management, working to reduce school dropouts of young women by introducing reusable, affordable and environmentally friendly sanitary pads to address the menstrual health gap. She graduated with a degree in development studies from Mount Kenya University in 2019.
Isaac Yeboah




West Africa Regional Coordinator
Isaac is a trained physician and currently works in the Department of Surgery at the Eastern Regional Hospital in Ghana. He is interested in pursuing continued studies in public health and is an advocate for improving health conditions, working to influence health policy at the local and nation level. One way he accomplishes this is through the Bold Step Foundation, a youth-led organization which he founded in 2020 that promotes adolescent sexual and reproductive health education in rural and deprived communities. Isaac served on the WMI Global Advisory Board for two years and is currently the President of the WMI Ghana Fellowship. He graduated with a medicine and surgery degree from the University of Health & Allied Sciences and has a certificate in Water and Sanitation from Kwame Nkrumah University of Science and Technology.
Fred Okech



Scholar Programs & Digital Media Assistant
Fred is an integral member of the WMI team, supporting all scholar programs and optimizing digital content and resources. He has a background in information technology and providing technical and administrative support to various institutions in Kenya. His commitment to volunteerism underscores his passion for enabling disadvantaged individuals to reach their full potential. Fred is the founder of the Medruok Self Help Group, an organization empowering financially disadvantaged families through agriculture in Migori County, Kenya. He has also received a WMI Community Development Seed Grant to support the organization's income-generating sustainability plans. He graduated with a degree in business and information technology from Jomo Kenyatta University in 2022.
The Global Advisory Board is comprised of WMI Scholars who are invested in the scholar experience and exemplify the values of partnership and community leadership. Board members provide insight, direction and recommendations for the growth of our organization and are integral to ongoing program development and implementation. Each member works 10 hours a month and serves a two year term.
Computer Science Student, University of Nairobi
Purity's journey as a WMI Student Scholar pursuing a BSc. in Computer Science at the University of Nairobi in Kenya has been fueled by her passion for using technology to empower individuals and communities. She took the initiative to establish a community tech hub called Slum Tech, where she teaches web development to the youth in her community, demonstrating her commitment to making a positive impact through technology.
Through her participation in the Global Mentorship Initiative supported by WMI, Purity recognized the profound impact of mentorship on personal and professional growth. This experience further strengthened her belief in the power of mentorship as a transformative tool.
As a member of the GAB, Purity envisions collaborating with her fellow board members to drive the success of initiatives within GAB, especially the mentorship program. Her goal is to contribute to the launch and success of the program by ensuring that all student scholars receive mentoring from graduate scholars at least once before they graduate. Leveraging her technological expertise, Purity aims to develop applications that streamline and automate the mentorship process, creating a seamless experience for all participants.
Raj Prasad Rauniyar is a WMI Graduate Scholar. He received his Bachelors of Commerce degree with honors from the University of Delhi. He is a skilled Business Executive Consultant with a wealth of expertise dealing with the top banks around the globe. Raj's professional career is marked by his expertise in strategic execution, project and change management, and customer relationship management.
Raj is also a leader in promoting corporate social responsibility in India and Asia-Pacific region through Sparsh. His commitment to creating a positive impact in the communities where he works is a testament to his values and commitment to making a difference.
As a member of the Global Advisory Board, he aims to create specialized divisions for all scholars based on their fields of study. He believes that by creating a solid network of scholars, all scholars could benefit from opportunities like research activities, attachment placements, internships, job referrals, references, and worldwide networks.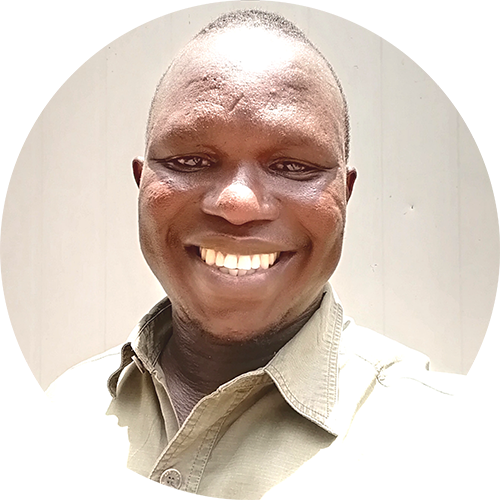 Agriculture Student, Uganda Martyrs University
William Alira, a WMI Student Scholar from South Sudan, is dedicated to community service, having started as a volunteer secondary school teacher in 2011 after finishing his high school studies. This experience motivated him to obtain a diploma in both education and agriculture, and he is now studying for his bachelor of science in agriculture at Uganda Martyrs University. He has been employed at various organizations as a humanitarian worker, most recently as a project team leader and is deeply involved in food security and agriculture issues in South Sudan. William's hope as a Global Advisory Board member is to mentor and coach fellow scholars in effective and efficient implementation of Community Development Grants.
Hellen Gathoni Kihoro is a WMI Graduate Scholar and currently a medical officer in Kenya. She studied at Mount Kenya University and obtained her bachelor's degree in medicine and surgery in 2021. She enjoys working with the community helping out where she can. Hellen is passionate about community empowerment, achieved by providing necessary information to change attitudes and encourage positive behavioral change. She also loves mentorship and helping people walk the path she has walked, providing advice and guidance to them along the way. During her time on the board, she intends to develop a strong support system for WMI Scholars both in local chapters and globally.
Medical Student, Autonomous University of
Moisés Gutiérrez is a medical student at the National Autonomous University of Nicaragua, originally from a rural community in the southeast of Nicaragua. After his secondary education he worked in the Ministry of Education as an English teacher in three rural schools. He has been keenly interested in supporting social causes, and began to collaborate closely with the Peace Corps and later with the Red Cross. He twice attended the National Young Leaders Camp in Nicaragua and was a mentor at the CHACA National Camp, which is focused on gender equity and sex education. He is a former SUSI Scholar for Student Leaders of the Western Hemisphere of the United States Department. He joined the Global Advisory Board with an interest in supporting and amplifying the voices of WMI's Spanish-speaking scholars.
Mariam is a final year student at the Federal University of Technology Minna, majoring in electrical and electronic engineering. She co-founded Females in Clean Energy Foundation and serves as secretary of the foundation, the goal of which is geared towards realizing gender equality and women's empowerment as well as increasing access to affordable and reliable renewable energy in rural communities in Nigeria. Currently, she works as a research assistant at Advanced Engineering Innovation Research Group. She is the first female president of WMI Nigeria Fellowship. As a board member, she is most interested in promoting the success of WMI by strengthening the relationship between scholars of different countries through a cultural immersion series program.
FORMER GLOBAL ADVISORY BOARD MEMBERS
Isaac Yeboah
Ghana, Medical Doctor, Eastern Regional Hospital
Alpha Bangura
Sierra Leone, Executive Director, Sustainable Education Africa
Charles Uwambajimana
Rwanda, Pharmacy Graduate
Dr. Melisa Bhebe
Zimbabwe, Medical Doctor
Success Odoemenam Eugene
Nigeria, Leadership Skills & Development Coordinator​
Brian Juma Omala
Kenya, Executive Director, BoldStep Initiative
Jawaria Shahzad
Pakistan, Biotechnology Graduate
Dr. Ephranzia Chao Malindi
Kenya, Radiologist Specialist
Sujan Gautam
Nepal, Graduate Student, Erasmus Mundus emPLANT
Thomas Servodzi
Ghana, Finance Manager, Asante Kotoko Sporting Club
Jeremiah Thoronka
Sierra Leone, Graduate Student, Durham University
The Medical Scholar Board is composed of WMI Scholars who are university students or professionals within the field of medicine and healthcare. The board's mission is to strengthen support of the growing WMI Medical Scholar community through professional development activities, networking events and the sharing of relevant resources. Each member dedicates 10 hours a month and services for a one year leadership term.
Onesai Chiguvare is a WMI Graduate Scholar and currently works as the head of managed care at the First Mutual Health Company in Zimbabwe. She obtained her bachelor's in medicine and surgery at the University of Zimbabwe in 2017 and is particularly passionate about sexual and reproductive health, wellness, and wellbeing. Onesai served as a government medical officer in a provincial hospital where she developed a strong passion for health provision to the underprivileged in society as a way to facilitate future societal growth. Onesai then went on to complete a masters in sexual and reproductive medicine from the University of South Wales and is currently finishing her MBA at the University of Zimbabwe. She has become a notable advocate for accessible and affordable fertility care in her nation with the All Things Fertility medical business. Her mission on the WMI Medical Scholar Board is to create professional development activities and networking events.
Morie is a medical student at the University of Sierra Leone College of Medicine and Allied Health. At university he has served as the public relations officer for the student union government. Morie was part of the founding group of the WMI Sierra Leone Fellowship and has held the positions of outreach coordinator and secretary general. As a way to give back to the community, he led a team that conducted awareness campaigns about COVID-19 in the western districts of Sierra Leone. Morie was introduced to the idea of Global Health Strengthening, an approach that teaches young people about health in a way that is both scientifically sound and relevant to their area, and then incorporates community service to help them become leaders. Serving on the Medical Scholar Board he will be charged with instituting a monthly email blast promoting opportunities and providing oversight for medical and health focused community development grant applications.
Yvette Nkurunziza joined WMI in 2018 and graduated from the University of Rwanda with a bachelor of medicine and surgery with honors in 2021. Yvette currently works as an intern medical doctor at Rwamagana Provincial Hospital. In university, she had various leadership positions including the vice guild president of the College of Medicine and Health Science. Yvette served as a leader of Rwanda Girl Guides Association, touching the lives of many young women, and as a prenatal health project leader at Rwanda Village Community Promoters. She was a Wavumbuzi Entrepreneurship Program ambassador with the Allan and Gill Gray Philanthropy and is a certified young leader by Young African Leaders Initiative. Yvette has a strong interest in career guidance, mentorship and intergenerational experience sharing. As a board member she will be leading professional experience sharing events.
Gwenael Apollon
Secretary General, YMCA Haiti
Didier Blesin
International Training Consultant & Coach
Rick Claydon
CEO Emeritus, Ridgewood YMCA
Jag Dalal
Management, IT Expert and Public Speaker
Kenneth Forester
CEO, Meridian Air
Rick Kushel
Co-Founder & General Partner, Fintop Capital
Christopher Lutz
Senior VP of Investments
Lisa Meadowcroft
Executive Director, WMI
Gail Nystrom
Founder & Executive Director, Costa Rican Humanitarian Foundation
Dr. Mary Clark Romney
Retired, Medical Doctor
Jordyn Wells
Co-Founder & Senior Advisor, WMI
Thomas Wells
Founding Partner, Wells, Jaworski & Liebman
& Founder & Board Chairman, WMI
Marianne Dill
Retired Director of Operations, The Rink
Brent Edmonds
President and Founder, Edmonds Contracting
Susan Hunt
Occupational Therapist
Bob Jones
CEO Emeritus, Children's Aid and Family Services
Ernie Lamour
President & CEO, YMCA of Greater Rochester
Seta Nazarian
Nonprofit Organizational Management Consultant
Denis Salamone​
Retired CEO, Hudson City Savings Bank
Leanne Tingay​
Senior Associate for Programs, Orton Family Foundation​
Carol Vitz Wells
Operations Director, Bristol Suites & Vermont Marketplace
Philip Wells
Architect, Wells Architecture