Our WMI Graduate Scholars (those who have completed their tertiary education) do amazing work, lead change in their communities and spur action in others.
Creating the change they want to see
Our graduate scholars are leading change in their communities, society, and world. They have successful careers in medicine, non-profit management, development, law and business. Our graduates create non-profits, run clinics, establish schools, mentor and teach youth, fight injustice and work tirelessly to improve their communities. We are proud of our WMI leaders and the small part we play in their journey.
Setting their own path and lighting the way for others
Graduate Scholar Success Stories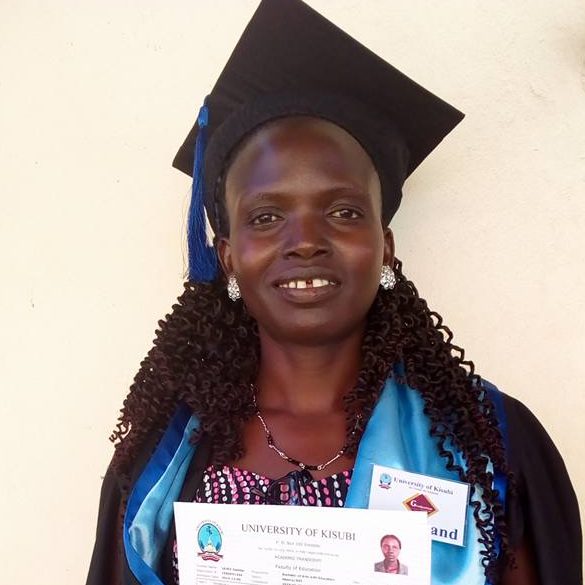 At the age of 40, Isabela proudly celebrated with her husband and three children the victory of earning her degree. She has since been promoted to the head women's teacher at a public school, and is in charge of guidance counseling and the Life Skills Club. She was nominated by co-workers to attend a sexual gender-based violence training organized by the UN High Commission for Refugees. With the award of a WMI Community Development Grant in 2019, she is developing the Salon Arise Project to provide professional hair salon skill training to young female dropouts with a curriculum based on small business management education. In the future, Isabela aims to be the first in her family to earn a master's degree and work as a Uganda Ministry of Education school inspector. She was awarded in the Community Growth Grant to expand her project in 2020.
community health, south sudan
After completing his studies in Uganda, Mayom returned to his nation of South Sudan. He currently works for the National Ministry of Health focusing on the prevention of mother-to-child transmission of HIV. He has also held positions with the World Health Organization and the U.N. Development Programme. In 2015, Mayom founded the Scenario Aid organization to engage citizens in alleviating poverty and improving their quality of life. With a WMI Community Development Grant he created a very successful local micro-lending initiative and then received the first WMI President's Award to expand the micro-lending enterprise. Today, Mayom is self-funding his master's in Humanitarian & Conflict Studies at the University of Juba.
Business Administration & Marketing, GHANA
Victoria was the first recipient of a WMI scholarship in 2005. She began studying business and then specialized in transportation and logistics. Since 2011 she has worked for a supplier of heavy duty equipment. She began as an entry-level employee and is now a senior manager in sales and marketing. Using her experiences, Victoria recently launched Vaccyghall Trading Enterprise, a wholesale business of local fabrics and quality garments. Leading by example, Victoria is now sponsoring her younger sister who attends fashion and design school. Victoria is a strong female leader and is a founding member of the Ghana Fellowship. She was awarded the Community Development Seed Grant in 2020 to fund the expansion of her business.
Meet Q.M. Monzur Kader Chowdhury
veterinary medicine, Bangladesh
Monzur turned his love for animals into a career as a licensed veterinarian. Growing up in a poor community with seven siblings, he was raised to care for and treat livestock well – as livestock often was the only source of income for families. With a WMI Community Development Grant Monzur led a community awareness campaign against the transmission of rabies. The project was successful in educating over 1000 local residents and vaccinating 90% of the registered feline and canine population in Sylhet. Monzur shares, "As a vet it's my responsibility to save both animals and humans." Today Monzur studies specialized veterinary medicine and has the goal of becoming a government veterinary surgeon.
As a six-year-old orphan, Phoeby had immense determination to overcome the odds of growing up in a society that believes orphans are incapable of living successful and productive lives. With WMI, she earned her law degree and is now an Operations and Development Manager for Freely in Hope Zambia; a Non-Governmental Organization Phoeby provides oversight of the operation of the organization which include  the coordination of all programs, manages all staff within the Zambia Office, and liaisons with partner organizations  and local corporate sponsors to equip and provide support for survivors of sexual violence through education and leadership development. She is also WMI's Central and Southern Africa Regional Coordinator. She has attended both Dream Big Conferences in Kenya and Uganda, and her next goal is to secure a WMI Community Development Grant to further impact her community.
The WMI Founder's Award is a very special honor granted to select student and graduate scholars who are recognized for their exceptional dedication, for going above and beyond what is expected of a young leader, and for the positive change that they are creating within their community, nation, and the world.
Learn more about this award and our most recent honorees.
Meet Jimmy Francis Odongo. He founded the Keframa Secondary School, an educational institution providing opportunity for over 200 students. Give to changemakers like Jimmy today.